How to use EPS files Downloaded from our Website in Illustrator
Posted on 21st October 2016
Some files downloaded from Design Bundles will come with an .EPS file extension, meaning Editable Postscript - this file type is designed for use in Vector Editing Software such as Adobe Illustrator.
Adobe Illustrator is the Industry's leading Vector editing software. It's widespread usage in the professional market and backwards-compatibility is unrivaled. It is certainly worth it's high price.
This tutorial will walk you through opening the .EPS file in Illustrator. The file used in the tutorial is
Really Freakin' Big Illustration Pack
which is also included in
The Designers Revolution Bundle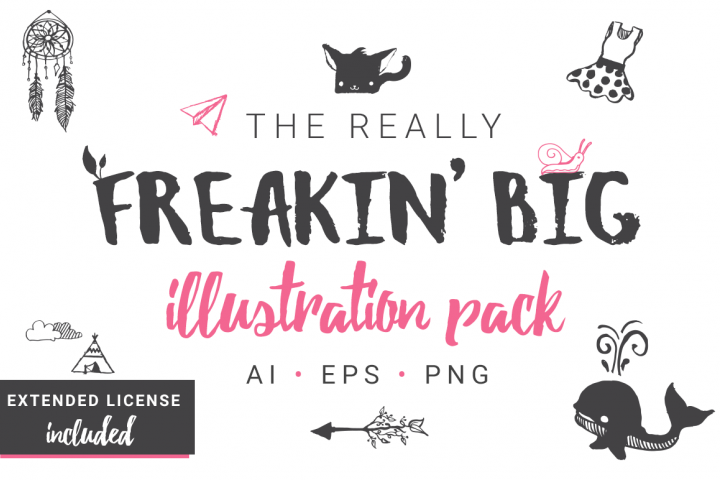 1. The Download
When you first download a file from Design Bundles, it will come as a ZIP file which is an archive file containing the elements.
2. Unzipping
To 'Unzip' the file, double click on it.
3. Locate the EPS Element File
This unzipping procedure will create a folder containing the actual elements. Locate the EPS file you wish to use within these folders.
4. Open the EPS
Right click on the .EPS file and go to Open With, and then click Adobe Illustrator.
5. Locate an element you wish to use.
This particular EPS contains multiple elements laid out in single files. Locate the particular element you wish to use in your design.
6. Select the Element
Drag over the element with the selection tool
(hotkey V)
to select it.
7. Copy the Element
Go to Edit > Copy or use the hotkey (Ctrl+C on PC, Cmd+C on Mac) to copy the element.
8. Paste the Element
You can then create a new design document in illustrator (or use an existing document) and paste the object in by going to Edit > Paste or using the hotkey (Ctrl+V on PC, Cmd+V on Mac).
At this stage you can copy more elements into your new design document, add Vector text, or modify the shape of the element as required.